News
Carly Baker and Daria Pankratyeva join BD&P's litigation group as associates
---
Published May 3, 2021
We are delighted to welcome two new litigation associates to BD&P, Carly Baker and Daria Pankratyeva. Carly and Daria both completed their JD's at the University of Alberta and were called to the Alberta Bar in 2020.
Carly has a broad dispute resolution practice that includes advising on commercial and construction disputes. She is a member of the Advocates' Society and volunteers at Pro Bono Law Alberta.
Speaking of her appointment to the team, Carly commented, "I am looking forward to working with the incredibly talented team of lawyers at BD&P as a junior associate in the litigation group. BD&P has a longstanding reputation of encouraging and fostering the professional growth of its lawyers while also offering a collegial and collaborative workplace. I am keen to work on the complex files from the diverse portfolio of clients that BD&P is known for. "
Daria's practice is focused on commercial litigation and arbitration. Prior to joining BD&P, she was an associate at a mid-sized regional law firm in Edmonton where she was involved in a number of complex construction arbitration proceedings. Daria has also assisted clients on matters in Provincial Court and Court of Queen's Bench involving debt recovery, employment, construction, personal injury, and estate litigation.
Commenting on joining BD&P, Daria said, "I am excited to continue my practice alongside some of the best litigators in Calgary".
More like this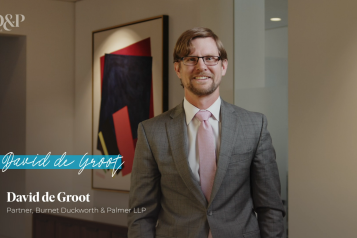 Publication
February 9, 2023